Tower Of Titles
The Lake Placid Tower has gone through several name changes since its doors first opened in 1961. Titles like Tower of Peace and Happiness Tower would do little to boast the structures popularity as a tourist attraction.
Upon its completion the 270-foot high structure (then Placid Tower) was the world's tallest concrete block tower. Postcards encouraged calling home from the highest pay phone in Florida. The observation deck provided a million-acre view of surrounding groves and lakes while a petting zoo sat at ground level. But with Bok Tower and The Citrus Tower further north on US 27, Lake Placid Tower always seemed to be a bit overshadowed.
Arial view of what was Placid Tower at the moment.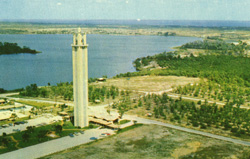 Residents of Lake Placid like it. Some realtors have even been known to use it as a selling point for perspective residents to the area. It's a great way to check out your future neighbor's backyard without the awkward introductions.

Lake Placid is the "Caladium Capital of the World." Taking an elevator up the 27-story tower gives a glimpse of the fields where 97% of all caladium bulbs in the world are grown. Each fall visitors come to celebrate the beloved plants with a three day festival. Strangely, nobody ever thought to call Lake Placid's centerpiece the Caladium Tower.

What is this button?
Lake Placid Tower
US 27 North
Lake Placid, FL
In the neighborhood - a big pineapple

Roadside Distractions Guide