Lee Koplin's Big Goof
It may not have been the developer's intention to build a miniature golf program with a link to one of the most defining courses of the game, but one does exist. Goofy Golf located in Panama City Beach, Florida changed the way the postwar generation of the 1950s thought about miniature golf.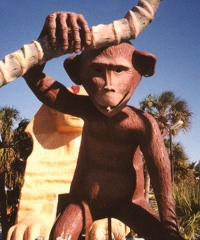 The Original Goofy Golf

Up until this time miniature golf lived up to its name. Tiny greens often called Tom Thumb courses were scantly clad with small obstacles and mass-produced elf statues. The trend grew out of Garnet Carter's (co-founder of the Tennessee attraction, Rock City) endeavors to build a chain of putting greens, called Tom Thumb Golf, in the late 1920s.

In 1958, Lee Koplin reinvented and reenergized the idea of mini golf when he opened Goofy Golf in Florida. Suddenly, unlike its predecessors, obstacles became oversized. Giant dinosaurs, pyramids and other kooky sculptures towered over the putting areas. Goofy Golf dwarfed the idea of Tom Thumb golf and gave the game an amusement park feel. Even sculptures that were not part of the game were set up along the walkways to add to the surreal fantasy landscape.

Other Goofy Golf style courses soon began to appear throughout the southern United States. Tennessee had Goony Golf and Jolly Golf. Alabama had Spooky Golf. South Carolina had Wacky Golf. And alongside Goofy Golf in Florida were Holiday Golf, Zoo-Land Golf and Magic Carpet Golf. All grew out of Koplin's blueprint for a more animated playing field.

Visitors to Panama City can still play the famed Goofy Golf course. It stands nearly identical to the way it was when it first opened. Although Lee Koplin died in 1988, his son keeps the tradition alive. He also franchisees new courses, building from his father's original figure designs.